Diversity as We Pursue Justice
Justice in our society is on everyone's minds these days. From our country's highest court undergoing monumental change to our local legislatures considering what it means to properly protect victims while preserving offenders' dignity, there's no question that our judicial system is a topic of conversation for so many.
The pride of Queens is in the diversity of our County and our neighborhoods. While Republicans have shown their priority to be stacking the deck in favor of their own agenda, we Democrats strive for justice at every level. This past summer, the Queens Democrats came together to nominate a slate of judges for the 11th District of New York State's Supreme Court.
As history talks about the Civil Rights Movement, so too will they talk about today — what we have done to ensure Black lives matter and that immigrants have the right to pursue a better life in America. The camera of history is rolling and the viewers of the future will analyze what we did today to stand for liberty and justice for all.
This November, make sure to vote for the Democratic nominess for New York's Supreme Court. They are:
Tracy A. Catapano-Fox
Mojgan Cohanim Lancman
Lance P. Evans
Karina E. Alomar
Michelle A. Johnson
Darrell L. Gavrin
Evelyn L. Braun
Kevin J. Kerrigan
Leonard Livote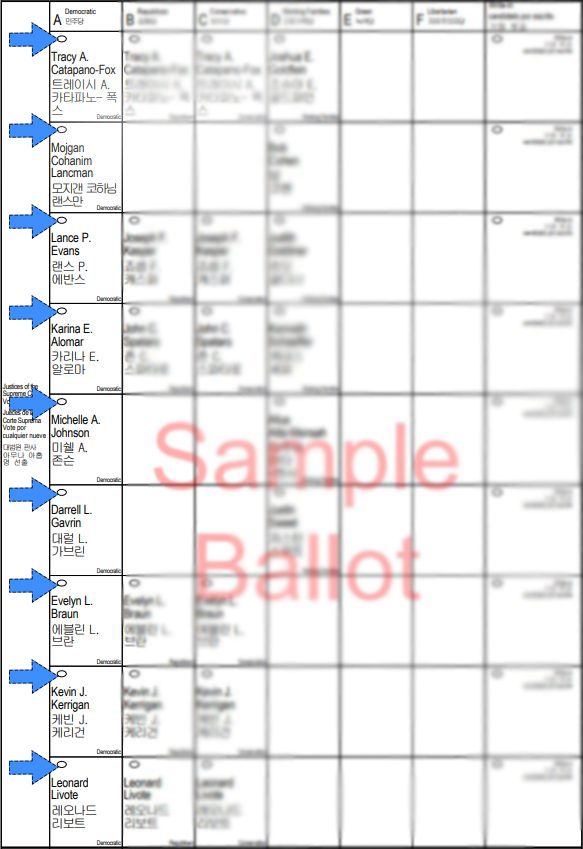 Read more on Chairman Gregory W. Meeks' take on what it means to have such a diverse slate of judges representing justice in Queens.
An abridged version of each of candidate's experience is included below for assisting you in your decision.
Tracy Catapano-Fox
Supervising Judge, Queens Civil Court (Jan. 2020 – Present)
Civil Court Judge, Queens Civil Court (Jan. 2018-Present)
NYC Civilian Complaint Review Board (Jun. 2013-Oct. 2014)
Education:

Boston College Law School – J.D., 1997
John's University – B.A., 1994

Activities:

Women's Bar Association of NY
Queens County Women's Bar Association
Queens County Bar Association
Columbian Lawyers Association of Queens County
Mojan Cohanim Lancman
Acting Justice of the Supreme Court, Queens County (Jan. 2018 – Present)
Judge of the Civil Court, Queens County (Jan. 2015-Dec. 2017)
Court Attorney Referee, Supreme Court, Queens County (Jan. 2014-Dec. 2014)
Principal Law Clerk, Hon. Roger Rosengarten, Supreme Court, Queens County (2005-2013)
Education:

New York Law School – J.D., 1994
CUNY Queens College – B.A., 1991

Activities:

NYC Civil Court Judges Association
Women's Bar Association of NY
Queens County Women's Bar Association
Iranian-American Bar Association-New York
Lance P. Evans
Judge, New York City Civil Court (Jan. 2019 – Present)
Supreme Court Civil Term, Court Attorney Referee (Mar. 2011-Dec. 2018)
Civil Court, Court Attorney & Principal Court Attorney (Jan. 1994 – Jul. 2010)
Education:

Rutger University School of Law – J.D. and M.A. (International Relations), 1981
Cornell University – B.A. (Economics and Urban Planning), 1991

Activities:

Footsteps to Follow, Inc.
Youth Mock Trial Competition, NYS Bar Association
Queens County Bar Association
Iranian-American Bar Association-New York
Karina E. Alomar
Judge, New York City Civil Court (Jan. 2019 – Present)
Judge, Criminal Court of NYC, Queens (Jan. 2019 – Present)
Alomar & Associated, P.C. (2001-2018)
Adjunct Instructor, LaGuardia Community College (2012-2014
Arbitrator, Civil Court of NYC (2007 – 2018)
Education:

John's University School of Law – J.D., 1999
Florida State University – B.A., 1995

Activities:

VP for the 11th District, New York Bar Association
President, Latino Lawyers Association of Queens County
Board of Managers, Queens County Bar Association
Michelle A. Johnson
Supervising Judge, Queens County Criminal Court (Jan. 2016 – Present)
Judge, Queens County Criminal Court (Sep. 2011 – Dec. 2015)
Managing Attorney, The Armstrong Law Firm, P.L.L.C. (Apr. 2006 – Sep. 2011)
Supervisory General Attorney, Office of Civil Rights, U.S. Dept. of Ed. (Nov. 2003 – Mar. 2006)
District Attorney, King County District Attorney's Office (Oct. 1992 – Nov. 2003)
Education:

George Washington University National Law Center – J.D., 1992
Hampton University – B.A. cum laude, 1989

Activities:

Association of Judges of NYC Criminal Courts
National Association of Women Judges
Queens County Women's Bar Association
Delta Sigma Theta Sorority
Darrell L. Gavrin
Judge, Supreme Court, Queens County (Jan. 2007 – Present)
Acting Justice, Supreme Court, Queens County (Jun. 1999 – Dec. 2006)
Judge of the Civil Court (Jan. 1993 – Jun. 1999)
Principal Law Clerk, Queens County (Jan. 1981 – Dec. 1992)
Small Claims Arbitrator, Civil Court of NYC (Mar. 1988 – Mar. 1991)
Education:

Hofstra University School of Law – J.D., 1976
SUNY Stony Brook University – B.A. magna cum laude, 1973

Activities:

Queens County Women's Bar Association
Brandeis Association of Queens County
Board of Managers, Queens County Bar Association
Evelyn L. Braun
Judge, Supreme Court, Queens County (1992– Present)
Judge, Criminal Court of NYC (1991)
Judge, Civil Court of NYC (1990)
Principal Law Clerk, Queens County (1984 – 1990)
Law Assistant, Civil Court of NYC (1979 – 1983)
Education:

John's University School of Law – J.D., 1978
CUNY Queens College – B.A. magna cum laude, 1976

Activities:

Advisory Group, NY State and Federal Judicial Council
Member, New York State Commission on Judicial Conduct
Queens County Bar Association
Columbian Lawyers Association
New York State Women's Bar Association
Kevin J. Kerrigan
Justice, Supreme Court, Queens County (Jan. 2007 – Present)
Judge of the Civil Court (Jan. 2000 – Dec. 2006)
Acting Justice, Supreme Court, Queens County (Nov. 2004 – Jan. 2005)
Law Secretary, Hon. David Goldstein, Queens County (Jun. 1995 – Dec. 1999)
Education:

University of Bridgeport School of Law – J.D., 1981
Bonaventure University – B.B.A., 1977

Activities:

Queens County Community Board 2, 1984-1991
Hunter Point Waterfront Development Committee, 1988-1990
Leonard Livote
Judge, NYS Court of Claims, Acting Justice, Supreme Court, Queens County (Jan. 2014 – Present)
New York State Supreme Court, Bronx County Criminal Divison (Nov. 2010 – Dec. 2013)
NYS Supreme Court Referee, Trail and Conference Parts (May 2007 – Nov. 2010)
Law Clerk, 11th Judicial District Adminstrative Judge (May. 2004 – May 2007)
Principal Law Clerk, Various Supreme Court Justrice (Jan. 1990 – May 2004)
Education:

Western New England College School of Law – J.D., 1978
CUNY Queens College – B.B.A., 1975

Activities:

Retired Military Judge
NYS Court of Claims Judges Association
Board Member Association of Law Secretaries in NYS Supreme & Surrogate's Court
Board of Directors, Brandeis Lawyer's Association
Graduate, US Army Command and General Staff College