Chm. Meeks Holds Rally to Demand Votes Be Counted
November 05, 2020 | Press Release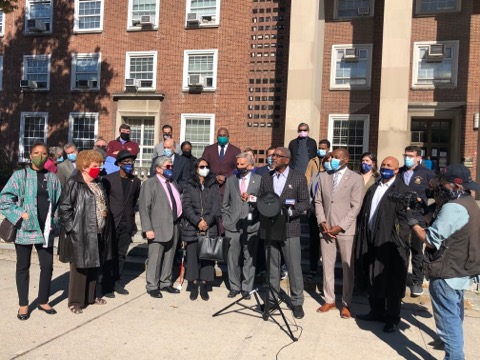 Photo Credit: Queens Democrats
Today, Chairman of the Queens Democratic organization Gregory W. Meeks held a rally on the steps of Queens Borough Hall calling for every vote to be counted, in Queens and across the United States. He was joined by leaders in the Queens Democratic party, urging patience, and criticizing President Trump for attempting to interfere in that count with frivolous legal challenges.
"We've known well in advance that the results of this election will take time as we count every ballot, including the ones that have been mailed in. Donald Trump has spent months discouraging the use of absentee ballots, so we've known that a disproportionate amount of mailed-in ballots would likely be for Democrats, creating a blue-shift in results once those votes are counted," said Chairman Meeks.
"If we look at states like Pennsylvania," he continued, "it was the Republican controlled state legislature that prohibited mail-in ballots from being counted early, back-loading predominantly Democratic votes. Now they're trying to say the results of the system and rules they created are suspicious. This attempt to sow distrust in our democratic process when they don't like the results is illiberal and dangerous for our democracy. Americans cast their ballots according to the rules that were presented to them and their votes must be counted, regardless of how often president Trump baselessly tweets 'fraud'."
Underlying the need to protect our most pivotal institutions and processes, Chairman Meeks stated that "in a democracy, you don't cherry pick which votes to count; you don't choose your voters, your voters choose you. As Chair of the Queens Democratic organization, I will continue to make sure that all votes are counted here in New York, and urge patience here and across the nation as we let the democratic process play out."