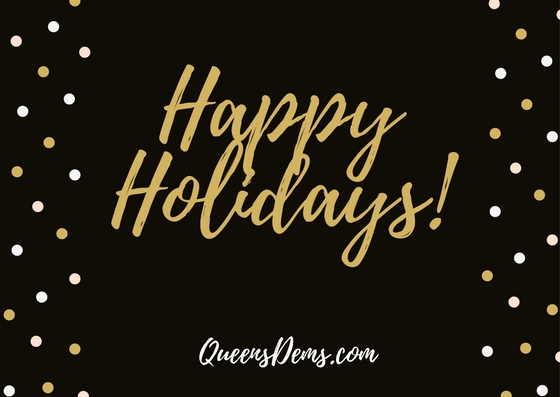 Happy Holidays!
The holiday party season is in full swing! Here are some of the events going on in Queens this week:
Wednesday, December 20th @ 7pm - JFK Democratic Club 34A Holiday Party
United Methodist Church of Jackson Heights, 81-10 35th Avenue, Jackson Heights, NY 11372
Thursday, December 21st @ 6:30pm - Stevenson Regular Democratic Club 51st Annual Dinner Dance
Israel Center of Conservative Judaism, 167-11 73rd Avenue, Flushing, NY 11365
Thursday, December 21st @ 7pm - Queens County Young Democrats Holiday Party
The dinerbar, 97-45 Queens Boulevard, Rego Park, NY 11374
Thursday, December 21st @ 7pm - Douglass/King Regular Democratic Club December Meeting
American Legion Benjamin Moore Post 1946, 204-03 Linden Blvd., St. Albans, NY 11412
Friday, December 22nd @ 7pm - 38th AD Part B Regular Democratic Club Holiday Party
American Legion Post 118 Woodhaven, 89-02 91st Street, Woodhaven, NY 11421
And in case you missed out on last week's news, here's a quick roundup:
We hope you have a warm and bright holiday season and an amazing 2018!