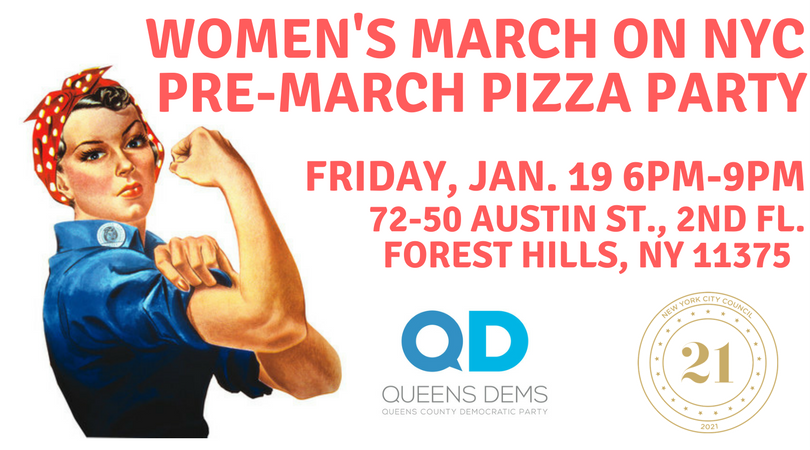 Join Queens Dems for a Sign-Making Pizza Party Ahead of the Women's March on NYC
Queens Dems will be hosting a pizza party on Friday, January 19th from 6pm to 9pm at Democratic Headquarters (72-50 Austin Street, 2nd Floor). All are welcome to make signs for the next day's march and enjoy the company of your fellow Democrats from thoughout Queens. If you're interested in attending please let us know by filling out the form below, joining our Facebook event, and spreading the word. It's time to take to the streets to make loud and clear that Women's Rights = Human Rights and we're standing strong in 2018.
Please check our Facebook page for the latest updates on the march location - Facebook.com/QueensDems.
Important Links:
Women's Alliance Website and FAQ: https://womensmarchalliance.org/2018-womens-march-on-nyc/2018wm-faq/
RSVP to Pizza Party: https://goo.gl/forms/opK7rdKZCMIsPzRj1
Facebook Event: https://www.facebook.com/events/1859813470718570/
RSVP to March: https://goo.gl/forms/dhnudBDmGSTaTlr52
Facebook Event: https://www.facebook.com/events/149063459086416/
Day of the March - Excerpted from Women's March Alliance FAQ
What to Wear:
We recommend layering your clothing and wearing very comfortable shoes. Prepare for unexpected snow, sleet, or ice. This is an outdoor event. There will not be heaters and we will march rain or shine. We do not encourage large bags or backpacks but they are allowed.
What to Bring:
Water
Homemade posters that show who you are and express your sentiment
For safety and the comfort of all marchers, we request that you do not bring large backpacks or purses. In such a large crowd, smaller is better
Yes, you may bring an umbrella
Posters, Signs, & Chants:
What Can't I say?
We believe in and promote free speech. Be advised that children and student groups will be in high attendance. Please choose your wording appropriately.
Materials:
For safety, posters and signs should be made of paper, poster board, or cardboard like materials. Holiday wrapping paper rolls can be used in lieu of wooden sticks.
The below materials are prohibited by the NYPD as they can become weapons:
Wooden poles, sticks, or handles (yes, even flagpoles are prohibited)
Metal wires or handles
Bring mini-flags at your own risk. Be advised that the NYPD may confiscate
Signs made with prohibited materials will be confiscated as they threaten the safety of other marchers.
We're excited to partner with 21 in '21 for these events. Learn more about the 21 in '21 initiative at 21in21.org